Anmeldung der Fohlen für die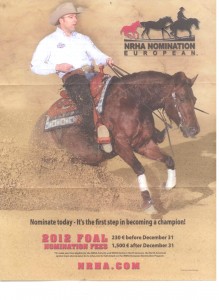 NRHA-European Futurity und Derby oder NRHA-US Futurity und Derby noch bis zum 31.12. 2012 für 230Euro. Ab 1. Januar 2013 kostet die Anmeldung 1500Euro. Infos unter http://nrha1.com/nomination
Orginaltext hier weiterlesen:
NRHA Nomination Program – Nominate by December 31!
Nominate your foals to the world's richest reining program and give them the opportunity to cash in on the program's $2.5 million annual payout and earn the 5% nominator incentive. Be sure to nominate weanlings by December 31 for only $300 (230∈).
After December 31, the yearling nomination fee jumps to $2,000 (1,500∈)! 
Find out more about the North American and European options at nrha.com.
Lindsey Forshee
Marketing & Affiliate Coordinator
National Reining Horse Association
Phone: 405-946-7400 ext 125
Fax: 405-946-8425