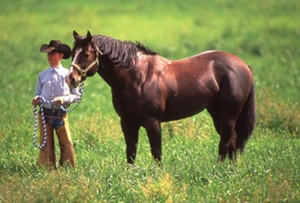 American Quarter Horses, welche älter als 36 Monate sind und noch keine AQHA-Papiere haben,  zahlen bis 31. Dezember noch 300USD zur Registrierung. Ab dem 1. Januar 2013  werden die normalen Tarife von 550 respektiv 1000USD wieder verrechnet.
Den Orginaltext aus dem The American Quarter Horse Journal  hier weiterlesen.
Registration Special Ends
AQHA's special pricing for registering aged horses will end on December 31, 2012.
December 5, 2012
Get aged horses registered today to take advantage of the registration special.
AQHA has been running an aged-horse registration special for some time now and it will be ending on December 31, 2012.
If the horse is 36 months or older and unregistered, the horse can still be registered for only $300 through the end of 2012. Typically, it costs either $550 or $1,000 to register an aged horse.
The special will only run through December 31, 2012, so get your aged horses registered today! There has never been a better opportunity to register aged horses with AQHA.
In order to begin the registration process, first download the registration application.
AQHA Customer Service is available via phone and email to help assist with any questions regarding the registration process. As long as the registration application is sent in before December 31, 2012, the lower registration fee will be applied to the application, regardless of the amount of time it may take to complete the registration process.
Also, to register a horse as an American Quarter Horse, you must be an AQHA member. AQHA membership comes with hundreds of dollars in savings each year, plus America's Horse magazine, free records, access to AQHA programs and events and much more. If you are not a current member, join AQHA or renew your membership today!
For more information on the registration process or becoming a member, visit www.aqha.com or contact AQHA Customer Service at (806) 376-4811 or email.
AQHA news and information is a service of AQHA publications. For more information on The American Quarter Horse Journal or America's Horse, visit AQHA Publications.