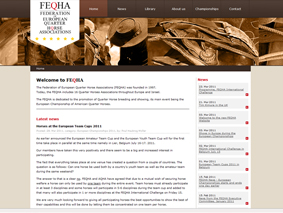 FEQHA-President

Poul Haukrog Møller gives you information

on the new "
Federation of European Quarter Horse Associations"
Website.
We are looking forward to receiving your remarks and comments.
"Dear all,
FEQHA is proud to inform that the new website is now public available with the address
www.feqha.net
.
You are now invited to visit the site and get an impression of what you can find there.
During the upcoming weeks a lot of more content will be put on the site, but the Executive Committee found it important to establish the site now in order to be able to use it as a communication tool.
If you have any comments or questions, please don't hesitate to contact us. If you have any news or information, you would like to have on the site, please forward your potential documents.
We hope that the establishment of this new website will constitute a new era in the FEQHA communication.
With best regards
Poul Haukrog Møller"