Pattern hier online
Timesheet tentative times are not binding.
Anmeldeformulare der International Horse Show vom 12. bis 14. Juli jetzt zum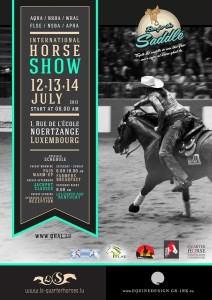 herunterladen bereit.   Anmeldeformulare 12-14. Juli 2013 ; General Rules and Informations 12-14. Juli 2013
Diese Turnier ist die zweite Qualifikation für den RUN FOR THE SADDLE
Die Tickets für das Samstag Abend-Programm hier vorzubestellen.
Danke an alle Sponsoren, Reitern, Helfern  und Zuschauern. Mit EUCH wird dieses Turnier zu einem Mega-Event.