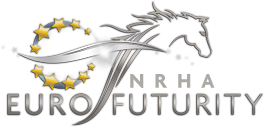 Die NRHA teilt mit, dass für die "Ancillary classes" welche zusammen mit der Eurofuturity laufen, bis zum 1. April ohne Nachnenngebühren, gemeldet werden kann. Die Eurofuturity ist vom 14-20. April in Kreuth, Germany
Orginaltext hier:
2013 NRHA European Futurity & NRHA Show
14-20 April, Kreuth, Germany
Event Conditions
Ancillary class deadline (no late fee): April 1The 2013 Open and Non Pro Futurity entries are in – it's show time!
Main Sponsors:  KL Performance Horses of Austria and Roleski of Poland
For Immediate Release – Provided by Simona Diale – Kreuth, Germany – March 14, 2013 – The
€200,000-added 
NRHA European Futurity & NRHA Show
is Europe's most successful National Reining Horse Association (NRHA) event.  Following the March 1 deadline, competitors have sent in their Open and Non Pro Futurity entries (late fees will be applied for those still wishing to enter) and once again, it does look like the Ostbayernhalle in Kreuth will rock during the seven days of competition.  Riders and owners representing fifteen nations (Austria, Belgium, Canada, Czech Republic, France, Germany, Great Britain, Israel, Italy, Luxemburg, Poland, Sweden, Switzerland, The Netherlands and U.S.A will be cheered by reining fans.
The
European Futurity
will not only showcase the best 4-year-old horses in Europe, the best riders will also be performing.  Competitors include NRHA Milion Dollar Riders and past NRHA Open World Champions Bernard Fonck and Rudi Kronsteiner; past NRHA Open World Champion Ann Poels-Fonck; past NRHA Open Reserve World Champion Gennaro Lendi; past NRHA Intermediate Open World Champion Doug Allen; past NRHA Non Pro World Champions Cira Baeck, Manuel Bonzano and Claudio Risso; past NRHA Non Pro Reserve World Champions Andrea Castrucci and Tina Kuestner-Mantl.  NRHA Milion Dollar Owner Eleuterio Arcese, one of the main sponsors of this year's edition, will also have his stock showing and past NRHA European Affiliate Champions will also make their way into the pen.
What makes the 4-year-old futurity prospects even more exciting this year is their pedigree.  In their bloodlines flows the blood of sires which have made, and make, history.  Offspring by NRHA Nine Million Dollar Sire Topsail Whiz, by NRHA Four Million Dollar Sires Gunner and Wimpys Little Step, by NRHA Three Million Dollar Sires Custom Crome and Shining Spark, by NRHA Two Million Dollar Sire Smart Like Juice and by NRHA Million Dollar Sires Jacs Electric Spark, Smart Spook and Whiz N Tag Chex will be performing in Kreuth.The four levels of the €138,000-added (or more) Open Futurity and of the €50,000-added (or more) KL Performance Horses Non Pro Futurity entries will soon be posted on the official website
www.nrhaeuropeanfuturity.com
.
Late Entries: Horses may still be entered in the Open and Non Pro European Futurity.  For those entries received March 2 until 2 days prior to the first go round, a late fee will apply as specified in the Futurity Event Conditions which may be downloaded from the official website.
Ancillary Action
In addition to the European Futurity, the NRHA Show offers a full-slate of approved classes and also includes the €10,000-added NRHA Roleski Open and the €5,000-added NRHA Arcese Non Pro.  Entries, with no late fees, are due April 1.  Horses may however  still be entered after said date and until the evening before the class.  In this case, a late fee will apply.
The Vendors
If shopping is a priority, in Kreuth you will find all you need for everything that is equine-related. Take a look at who will be there for you: Caprice Design –Avantis Chaps, Cayuse,  Gomeier's World of Saddles, Hübner Lee – Reitplatzbau, Kebo Show Apparel, Nice Horse Tec, OS Western Sports Apparel, Roleski Ranch & Roleski, Siering Bits, St. Hippolyt, Stegmann Saddlery, Tom Winter Saddlery, Westernweltm A.H.P Horse Care Products, California Ranch, Fun & Fancy, Hackl Show Tack, Lope In, Ruis Lema Jose, American Trailer Company.
Admission is free every day, including the Friday and Saturday Futurity Finals.
If you can't be in Kreuth, you'll have a chance of following the live-stream and live-scores from home. Go to the official website, www.nrhaeuropeanfuturity.com, and find out all you need to know.
We send a special thank you to our sponsors who have made
the fifth edition of the show bigger and better!
NRHA European Futurity & NRHA Show – Main, Premium & Platinum Sponsors:
KL Performance Horses, Roleski Ranch, Arcese, 23 Quarter Horses, CS Ranch, Eifel Gold Ranch, La Mesa Performance Horses, Jac Point Quarter Horses, Gomeier's World of Saddles, Lope in Westernstore, Wirsol Solar Energy, Bob's Custom Saddles (Official Saddle of NRHA), Markel Insurance (Official Insurance Partner of NRHA), OS Western Sports Apparel and Dreams and Prizes
###
Media Contact:
Simona Diale
simonadiale@gmail.com