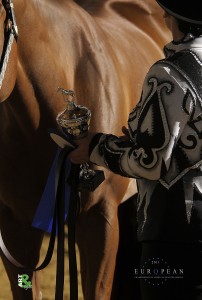 Press Release                   April 26, 2013
24th FEQHA European Championship of American Quarter Horses – this year again with Finals!
FEQHA European Team Cup Amateur &  Youth Part of the EC
FEQHA sponsors box stalls for Youth Riders
August 10 – 18, 2013, 92286 Rieden-Kreuth / Germany
The 2013 FEQHA European Championship of American Quarter Horses is scheduled for August 10 till 18, 2013 – as always at the beautiful show facility of Kreuth (Germany / close to Nuernberg). This year, Europe's premier Quarter Horse event will have finals again, do participants will not only earn AQHA points in the two go rounds but will also qualify for the finals. The Federation of European Quarter Horse Association will sponsor the box stalls for Youth Exhibitors.
EC hosts FEQHA European Team Cup Amateur & Youth
The 2013 European Championship will host the FEQHA European Team Amateur & Youth.  For this, participating nations can nominate 5 riders for their teams show will have to show in Showmanship at Halter, Western Horsemanship, Western Pleasure, Hunter under Saddle, Hunt Seat Equitation, Western Riding, Trail and Reining. Showmanship at Halter, Trail, Western Riding and Reining will be run class-in-class with the European Championship go rounds. For Western Horsemanship, Western Pleasure, Hunt Seat Equitation and Hunter under Saddle there will be stand-alone-classes during the last days of the show..
Admission free for Visitors
Visitors can look forward to nine days of high class sport in the various AQHA disciplines. Admission to the European Championship showground is dew. Also, the event offers excellent opportunities for shopping and talking to renowned trainers from all over Europe.
Entries:
Renate Gruber, Pfaffenöderstr. 23, 84137 Seyboldsdorf, Germany, phone +49-8741-949646, Fax: -49-8741-949656, E-Mail: RenateGruber@online.de
Press Office:
Ramona Billing, Hasenpfad 5, 63150 Heusenstamm, Germany, phone +49-6106-2835961, Fax +49-6106-2835973, Email: Ramona.Fallei@t-online.de