Die AQHA lädt alle Internationale Mitglieder zur World Show 2014 ein.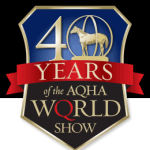 Hierzu gehört einen GRATIS Show Bagde ( Wert $60). Mit diesem Badge hat man freien Zutritt zu allen Performance Veranstaltungen. Bringt man noch einen Gast mit, welcher noch kein AQHA- Mitglied ist, kann dieser Vorort eine Mitgliedschaft für $40 erwerben und erhält den Show Badge gratis dazu.
Mitglieder welche Ihre Mitgliedschaft auf der World Show werden oder verlängern, erhalten zusätzlich ein Geschenk als Dank.
Ausserdem sind alle Internationale Mitglieder und Gäste am Freitag 22. November um 17:30 zu einer "International Reception" am " Sale Pavilion, Barn 3 eingeladen.
Weiter Infos zur World Show hier 2013 AQHA World Championship Show in Oklahoma City — November 8-23!
 Orginal Text hier
Below is some information about the badges at the World Show for you to translate and post on your websites if you would like.
Please let me know if you have any further questions.
 Thank you,
Sarah
 International Affiliates:
 We look forward to seeing you and your members at the 2013 AQHA World Championship Show in Oklahoma City — November 8-23!
 Remember, AQHA will provide one complimentary show badge ($60 value) to each international AQHA member who wishes to attend. This show badge will allow admittance into the show arenas for all event performances. If any international members are bringing other guests who are not AQHA members, they can purchase an annual membership for $40 and receive one show badge.
 A person purchasing a new membership, or renewing their membership will also receive a free gift as a token of our appreciation!Come by the horse show office to receive the show badge or to purchase/renew AQHA memberships.
 We also invite all international members and guests to attend the international reception on Friday, November 22 at 5:30 in the sales pavilion in barn 3.
 If you have any questions, please let us know. See you soon!