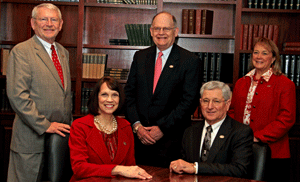 Knapp  1200  AQHA-Mitglieder waren vom 8.bis  11. März auf der AQHA-Convetion und Generalversammlung anwesend.  Johne Dobbs ist einstimmig als neue Presidentin der AQHA gewählt wurde. In das Executive Committee der AQHA wurde Sandy Arledge aus Encinitas, California gewählt. Somit hat, erstmals in der Geschichte der AQHA,  das Executive Committee zwei weibliche Mitglieder.
Orginal Text hier weiterlesen:
New AQHA Executive Committee
2013-14 AQHA Executive Committee elected during the 2013 AQHA Convention in Houston.
The American Quarter Horse Association
March 11, 2013
AQHA Executive Committee elected during the 2013 AQHA Convention in Houston.
The American Quarter Horse Association Executive Committee was elected at the 2013 AQHA Convention in Houston. This five-person committee is responsible for implementing important decisions made by AQHA members through the Association's board of directors.
President Johne Dobbs
Johne Dobbs of Champaign, Illinois, has been an AQHA board member since 1997 and is currently serving as a director at large. Dobbs has served on the marketing, hall of fame, equine research, and nominations and credentials committees. She has also served as the chairman of the nominations and credentials and the hall of fame committees. In addition to having served on the National Snaffle Bit Association board of directors, Dobbs has been active in projects benefitting her hometown and her church.
Dobbs attended Stephens College and the University of Illinois where she majored in business. In 1992, Dobbs established Johne Dobbs Equine Insurance, which allows her to be actively involved in the horse industry.
Dobbs' family continues to be involved in AQHA. Her son, Travis, and his wife, Johnna, along with their children, Cooper, 11, and Dylan, 9, compete in multiple events from roping to halter to barrel racing. Her daughter Courtney and husband Josh Clagg also continue the AQHA tradition with their daughters, Carly, 5, and Quincy, 3.
First Vice President Johnny Trotter
Johnny Trotter of Hereford, Texas, has been a member of AQHA since 1970. Trotter has served as an AQHA director from Texas for 10 years. He has also served on the racing, and stud book and registration committees, as well as the ranching council.
Trotter is the CEO of Livestock Investors LLT and owns Bar G Feedyard, and serves as president of the Texas Autos Investors DBA Whiteface Ford in Hereford. His involvement in the American Quarter Horse industry is focused on racing, roping and horses used for ranch work and breeding.
Away from the track and ranch, Trotter is very involved in his local community. He has served on the West Texas A&M University Foundation and has been a part of the Alumni Association's Silver Phoenix group. He also served on the Make-A-Wish Foundation, the Deaf Smith County Chamber of Commerce and the Kings Manor Methodist Retirement Home boards. He presently serves as the chairman of the executive committee of The Spicer Gripp Memorial Youth Foundation, a board member of First Financial Bank in Hereford and First United Bank in Lubbock, Texas, and an executive committee member at First Financial Bankshares Inc. in Abilene, Texas.
Trotter and his wife, Jana, have one son, Eddie.
Second Vice President George Phillips
George Phillips of Sumrall, Mississippi, begins his third term on the Executive Committee. Phillips is a longtime breeder of Quarter Horses and past president of the Mississippi Quarter Horse Association. He has been an AQHA member for more than 30 years, serves as an AQHA director and served on the public policy committee. Phillips is also a member of AQHA's "Q-Contact" group, which fosters relationships with members of Congress.
Phillips received his bachelor's degree in philosophy from the University of Southern Mississippi and his law degree from the University of Mississippi. In 1980, he was named the U.S. attorney for the southern district of Mississippi. Phillips also served as special counsel to Mississippi Sen. Thad Cochran (R) for six years, and he was director of the Mississippi Bureau of Narcotics before being named the state's commissioner of public safety in 2005. In 2008, he was appointed the Mississippi state director for USDA rural development.
Now retired, Phillips and wife Nicole have three children: Garrison, 22; Margaret, 21; and Mary, 18.
Dr. Glenn Blodgett, Member
Dr. Glenn Blodgett of Guthrie, Texas, begins his second term as a member of the Executive Committee. Dr. Blodgett became an AQHA director in 1991, and in 2011, elevated to director at large. Dr. Blodgett served on the AQHA Stud Book and Registration Committee and as its chairman. He also served on the American Quarter Horse Hall of Fame Selection Committee.
Dr. Blodgett received his bachelor's degree in animal science from Oklahoma State University and earned his degree in veterinary medicine from Texas A&M University, and has since been recognized as an outstanding alumnus by both universities.
In 1982, Dr. Blodgett became the resident veterinarian and manager of the horse division at the Four Sixes Ranch. In his tenure at the Four Sixes, which is located near Guthrie, Texas, the ranch has become an all-time leading breeder of both racing and performance American Quarter Horses, and in 1993, won the AQHA Best Remuda Award. In addition to its cattle, the horse operation raises racing, performance and ranch horses. Dr. Blodgett is the recipient of the 2011 AQHA Racing Council Special Recognition Award. He and his wife, Karen, have two daughters: Buffie Guynes, 40, who lives with husband Michael and daughters Catherine, Rebecca and Clair in Keller, Texas; and Brandie Mustian, 37, who lives with husband Mike, son Maddox and daughter Myla in Weatherford, Texas.
Sandy Arledge, Member
The newest member of the AQHA Executive Committee is Sandy Arledge of Encinitas, California. Arledge has been an AQHA director since 1997 and elevated to director emeritus in 2012. She has served on the membership, show and professional horseman's, judges, and hall of fame selection committees. She also served on the nominations and credentials committee and served as the committee's chairman in 2010. She currently serves on the stud book and registration committee.
Arledge received her bachelor's degree from San Diego State University and her Juris Doctor degree from the University of San Diego School of Law.
Arledge is active within the Pacific Coast Quarter Horse Association and California Horse Council. She owned and operated Sandy Arledge Quarter Horses and was a general partner and manager of Far West Farms, a full-service boarding facility in Del Mar. She has bred and trained numerous AQHA world champions and reserve world champions. Arledge was named the 2010 Professional's Choice Professional Horsewoman of the Year.
AQHA News and information is a service of the American Quarter Horse Association. For more news and information, follow @AQHAnews on Twitter, watch the AQHA Newscast and visit www.aqha.com/news.