Your America's Horse magazine is delivered digitally, and you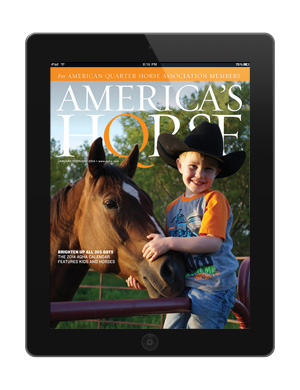 can take it wherever you go.
Read your America's Horse magazine online, one of two easy ways:
The Digital Edition
Designed for desktop computers, this Web-based version allows you to flip through the entire magazine quickly, or download it as a PDF.
Go to www.aqha.com/americashorsearchives and click on the issue you would like to read. The browser view will load, then login with your member ID and PIN (make sure your PIN is in all caps) to view the magazine.
The App
Useful for smartphones or tablets (both iOS and Android), the America's Horse app (short for "application") truly lets you take your membership magazine on the go.
Go to the "app store" for your device and search for "America's Horse."
Download the free app.
Open the app and log in with your member ID and PIN.
You'll have access to the last year of magazines and will be notified as current issues come out.
We hope you'll enjoy taking your America's Horse with you – wherever you go!
American Quarter Horse Association
1600 Quarter Horse Drive
Amarillo, TX 79104